Introducing Our New COO: Patrick Jackman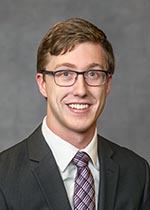 Together Clinic is pleased to announce the appointment of Patrick Jackman to the position of Chief Operating Officer. Previously the Director of User Experience at Together Clinic, Patrick gained insights into the day-to-day activities of care teams and their patients.  These insights have prepared him to spearhead the execution of business activities at Together Clinic. He plans to grow the Together Clinic platform through new sales strategies as well as active client follow-up and feedback-driven software development.
"We have an incredible opportunity at Together Clinic to make a real difference in how doctors and patients interact between appointments," said Patrick.  "It's exciting to help in this space as healthcare continues to evolve."
Patrick graduated from the Jeffrey S. Raikes School of Computer Science and Management at the University of Nebraska-Lincoln. He holds a bachelor's degree in computer engineering, and minors in art and business. Prior to joining the Together Clinic team, Patrick worked with several software development companies in the Midwest, including Hudl, Garmin, and Buildertrend.